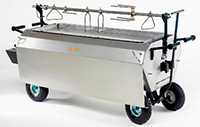 Make the most of our hog roaster hire with the addition of our brilliant spit roast kit, the only way to create the traditional spectacle guests have come to expect from hog roasting! Our spit roasting kit comes with a hefty spit roast pole that can hold up to 80kg of meat – that's enough for a huge hog. It uses a 240 volt motor to steadily rotate the carcass and give it that wonderful colour and taste. This accessory can also be used to cook a full lamb.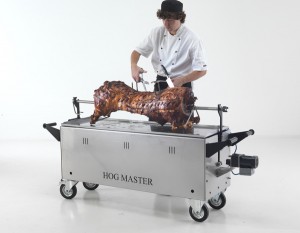 As the spit roast pole rotates, monitor your meet by viewing it through the toughened glass window of our Platinum machine. You may want to invite your guests to come and take a peek at their dinner as it cooks too – it's quite a sight and will definitely get mouths watering!
The real drama comes when it's time to carve up. Using the roaster's support bars, raise the whole hog into the serving position so you can carve in the open air. The smells that will fill your venue are incredible. To keep your meat hot, our carving tray is heated by two thermostatically controlled burners underneath, making it an effective hot plate.