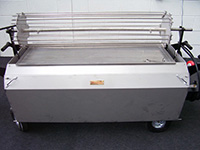 Enjoy the versatility of our hog roaster hire by borrowing a chicken spit kit to go alongside our machines. This clever accessory means you can enjoy the flavours of roast chicken as an alternative to hog and with a 5 arm rotisserie, you can cook as many as 36 chickens in one time! That will feed hundreds of guests with ease.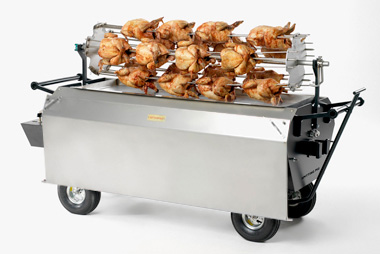 Alongside our traditional spit pole, our chicken spit set is another exciting option for adding a visual spectacle to your event catering. With the ability to gentle roast so many chickens in one go, it's a sight to behold and you're sure to have guest captivated by the slow turning carcasses that can be seen through the roasters viewing window. It's when the chickens are cooked that the real drama comes however. Raise the rotisserie into the service position to carve your meat in the open air. Each of the 5 arms can be removed one at a time so you needn't lose the powerful aesthetic as you dish up.
Or chicken spit kit can also be used to cook turkey, beef joints and pork legs.
Want to know more? Get in touch or come and visit us in our showroom.