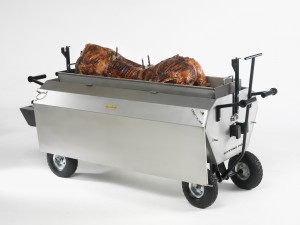 While our spit roast kit provides the dramatic edge in roasting, our hog roast kit is a must buy for large scale catering. This huge tray has masses of room for cooking many meat cuts as well as a full hog. If you're used to feeding hundreds of people at a time, this accessory makes delicious results super easy to achieve. Ideal for festivals, wedding receptions and charity dos.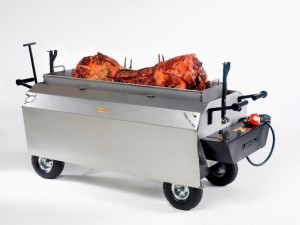 In total the hog roast tray can hold a 70kg full pig and up to 80kg of meat joints. You can use the hog roast tray to cook beef, lamb, chicken and vegetables alongside your hog too. The roasting is carried out by two full length burners that can be thermostatically controlled for the perfect temperature. Keep an eye on your meat through the Platinum's toughened glass viewing panel and watch as guest after guest comes up to peer in and get a glimpse of dinner sizzling away!
Hog roaster hire is just one of our specialities. With over 50 years in hog roasting, we're experts in cooking this way and know exactly what equipment to use. Give us a call to discuss our products in more detail – we'd be thrilled to assist.